Unlike other environmental vapors, carbon monoxide is colorless … it's odorless … it's deadly, and it could be in your home! Carbon monoxide (CO) is so very deadly, because it's completely non-detectable to your senses. You can be standing in a room filled with it, and you won't know it – you will just pass out in a matter of minutes and can quietly die, unless someone finds you in time.
According to the Centers for Disease Control and Prevention (CDC), carbon monoxide poisoning is responsible for more deaths each year than from any other type of poisoning. More than 400 Americans die annually from carbon monoxide poisoning. More than 20,000 people visit the emergency room for it. More than 4,000 are hospitalized from unintentional carbon monoxide poisoning. Those who survive carbon monoxide poisoning can suffer lasting neurological effects; and lastly, fatalities are highest among those 65 and older.
Where Does It Come From?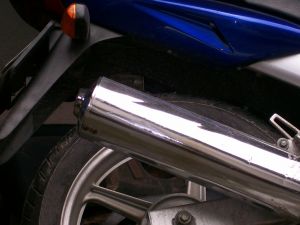 Carbon monoxide is produced any time fuel is burned – gas, oil, kerosene, wood or charcoal. So, cars in garages, motorcycles, barbeques, portable heaters, and small and large appliances can be suspect. Small gasoline engines, used in generators, lawn mowers and other yard maintenance equipment, snow blowers, and other equipment with small gas engines, meant to be used outdoors, can be deadly indoors … your home, shed, garage or other enclosed areas. Homeowners assume that if these appliances are used in the garage, for instance, with the overhead door open, there will not be a problem – think again. An open garage door does not provide enough air circulation to vent the unseen fumes of carbon monoxide. Such equipment needs to be used in the outdoors, where the fumes can safely disperse into the atmosphere.
Appliances inside the home could be a problem, as well – heating systems; gas stoves, ranges and ovens; gas hot water heaters; gas dryers; gas or oil space heaters; fireplaces and wood stoves. Such appliances are safe when used properly and serviced regularly, emitting a very low amount of carbon monoxide. Maintenance and learning how to use these appliances is key to your family's safety.
Another important point – don't try to service these appliances yourself! Call in the professionals, who will check, maintain and install these appliances properly. Always read the instructions or ask the professional installer to show you – trying to figure it out on your own may leave out vital steps and details.
Only purchase gas equipment and appliances with the American Gas Association or Underwriters' Laboratories seal on them. This ensures you are buying quality equipment on which you can depend.
MOST IMPORTANT – Purchase carbon monoxide (CO) detectors for every floor of your home. Place one near possible sources of carbon monoxide emissions, such as near your gas kitchen stove. Buy detectors with the same safety seal as noted above.
Symptoms
In case all else fails, know the symptoms of carbon monoxide poisoning, which unfortunately emulate other illnesses – such as the flu, food poisoning, and heart attacks. Symptoms can include headaches, dizziness, weakness, nausea, vomiting, chest pain, and/or mental confusion. You might have one symptom, a couple, several or all of them.
Unconscious victims, such as those sleeping or intoxicated, will have no symptoms at all – they will just quietly pass away from carbon monoxide poisoning. Physically fragile people and animals or those in high-risk health groups are especially susceptible to carbon monoxide poisoning, including fetuses, infants, the elderly, or those with chronic heart disease, anemia and/or respiratory issues.
If you suspect you may have carbon monoxide poisoning, especially if others with you are experiencing the same or similar symptoms, call an ambulance immediately and get to the emergency room for treatment. Don't try to drive yourself – you could pass out on the way; and leave the area immediately – wait outside in the clear, clean air.
It's always better to be safe than sorry. Take action today to prevent carbon monoxide poisoning in and around your home. Never take chances with CO poisoning.
And remember, call us today for all of
your home inspection needs!
Sydney Smidt
South Florida Home Inspection Associates
P.O. Box 1716
Hobe Sound, Fl 33475
561-818-5593